Store Overview
---
Located Nearby? Come visit us! We have a much bigger selection in store than online!
Fabric Store in Fountain Valley, CA
The Fabric Outlet is one of the highest quality fabric stores in Fountain Valley, CA. With over 300,000 yards of stock fabric, we have one of the largest supplies of decorative fabrics in the country. Talk about impressive! Our fabric warehouse is massive, so you will surely find what you are looking for. We have bold materials that will certainly add visual intrigue and style to any backyard space. However, we also have more neutral decorative fabrics if you want something more understated for the kitchen or living room. We want to match whatever style you're going for in your house. We also pride ourselves on the cleanability of our materials. They're perfect for households that have kids or pets running around who are unafraid to make a mess. The fabrics at our fabric warehouse are also incredibly durable. Our materials won't rip, even after extensive use, and they see their fair share of wear and tear.
Another appealing factor of our fabric store is the price. Everything is under $39.99 a yard. Therefore, you won't break the break when looking for the material of your dreams. We have indoor and outdoor upholstery fabric, so we can guarantee that your entire home will look fabulous. Our fabric outlet in Fountain Valley is a great place to spend the afternoon looking at all we have to offer. Who knows—you may end up finding materials that inspire a home makeover you weren't even expecting to undertake. That's the beauty of The Fabric Outlet; we inspire changes and additions you don't even know were missing. So check out our fabric store in Fountain Valley, CA, today. Not only will you see beautiful materials that may inspire an interior design upgrade, but you'll have a blast walking through the aisles and perusing everything we have to offer. Plus, you won't even break the bank while doing so.
Located Nearby? Come visit us! We have a much bigger selection in store than online!
Store Infomation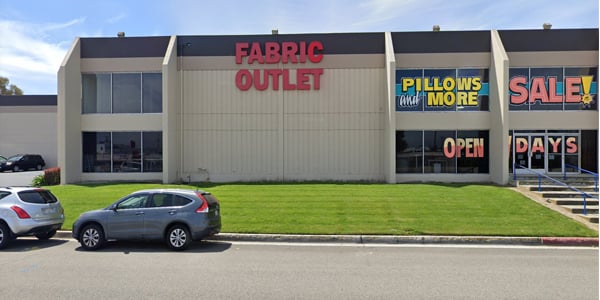 Store Operation Hours
| | |
| --- | --- |
| Monday | 10:00 AM - 06:00 PM |
| Tuesday | 10:00 AM - 06:00 PM |
| Wednesday | 10:00 AM - 06:00 PM |
| Thursday | 10:00 AM - 06:00 PM |
| Friday | 10:00 AM - 06:00 PM |
| Saturday | 10:00 AM - 06:00 PM |
| Sunday | CURRENTLY CLOSED UNTIL FURTHER NOTICE |